Normandy Online
Youngtree
A petite and willowy girl with light green skin, vibrant deep green eyes, and a tangled wave of delicate soft green hair.
Description:
From the mouth of Benoit Windsong "Ohhh such a sight was she…a delicate thing wreathed in mystery. Upon my lips danced a song so free…it would capture the heart of my sweet Youngtree."
Bio:
RPing Notes:
Benoit charmed Youngtree not once, but twice with exceptional successes both times (rolls 15+).
Benoit performed a captivating song (some of the lyrics are found below) for Youngtree on the first night in camp (roll 15).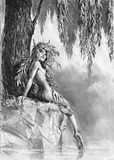 "My Sweet Youngtree" (Song Quality 15)
In the mist of early dawn.
I recognize where I belong.
__
Such a sight so heavenly.
I'll let the winds bring you to me.
__
Singing praises to the sky.
Without you here I'll surely die.
__
Come away and fly with me.
Come to me my sweet Youngtree.
__
Cause we were born to fly, and we were born to sing this night..my…sweet…
Never hesitate, tomorrow is to late to fill..our…needs….
Ohhh your beauty shines, within..my dreams…
and ohhh my song will span the bridge from you to me…